New technology in urban planning provides opportunities for urban and city level citizen review and feedback related to urban design and development. This emerging concept of public participation has grown all over the globe with the emergence and advancement of new technology in urban planning. Public participation for any successful urban scale project is very important in many terms as it helps in formulating the needs of future. The emerging technology such as AR and VR facilitates public participation in urban projects.
With advancement in virtual environment technology, it is now possible to develop 3D VE for community participation in urban planning. This 3d visual approach is very helpful to both planners as well as public domain. In order to comprehend the best use of this information and virtual technology to support the process of public participation, this article focuses into the advancement of technology, public participation processes in urban planning about the existing and upcoming technologies for city planning.
We will also look into the importance of several virtual world technologies for helping and motivating public participation in urban world. These several technologies can be used by planners to understand connection between functionality, interdependency and spatial visualization
In present world, more than 50% of world's population is urban or lives in cities. Cities play a vital role in this globalizing world. "It is projected that exponential population growth and urbanization of the world will mean that 70% of all humanity will live in cities by 2050" (UN, 2015). It encompasses both urban and digital worlds. Urbanization and Digitalization together have great potential to develop a sustainable society.
Urbanization and Digitalization
In present world, more than 50% of world's population is urban or lives in cities. Cities play a vital role in this globalizing world. "It is projected that exponential population growth and urbanization of the world will mean that 70% of all humanity will live in cities by 2050" (UN, 2015). It encompasses both urban and digital worlds. Urbanization and Digitalization together have great potential to develop a sustainable society.
Virtual Environment
Virtual Reality is defined as "Virtual reality is a way for humans to visualize, manipulate, and interact with computers and extremely complex data." (VR. Aukstakalnis and Blatner 1992)
Virtual Environment is referred to as the visualization of a 3D environment. It is a live scale virtual model of a city. It enables easy understanding and enhanced interaction between various stakeholders of an urban planning project. It can be used to record comments and suggestions of the Public which can cater as feedback to planners and designers. Before the introduction of virtual environments, the public participated through online portals or physical meetings where the designers presented 2D drawings and scaled models to the public. This imposed certain challenges such as:
Lack of interactivity: Since experts used passive media, it was nearly impossible for people to navigate through the plans as it was difficult for them to understand without any educational base in urban planning. This led to limitations in comments and suggestions by the public to modify the proposals.
Lack of feeling of Immersion: 2D physical models were used for presentation but due to obvious reasons they are scaled models which imposed limitations in understanding how an individual would function in the given environment and without being able to freely navigate through the model, people feel it is very difficult to immerse themselves into the project.
The comments have limited precision: Initially, the comments and suggestions from the public were recorded in notebook in written format which was very difficult to record, analyze and draw inferences from them. These lack precision as they are usually recorded in a notebook. It becomes even more difficult to comment specifically on a particular portion of the proposal hence the collected comments were mostly in general.
Virtual Environment and Public Participation
Planning for the city and building it in a certain way both have direct effects on the living environment of the city. Participation from the local community is crucial to the accomplishment of any urban planning activity. New advances in GIS technology and the provision of new methods for the development of online applications that assist in the facilitation of public interactions based on comments, data, and ideas have the potential to enhance the practices of Public Participation GIS (PPGIS).
Native knowledge contributes to an improvement in the quality of the information and analysis, which ultimately leads to various approaches to problem solving in comparison to the conventional method of data collection. The degree to which residents are involved in the planning and execution of an urban development project is directly proportional to the likelihood that the project will be successful. It has been demonstrated that the implementation of information technology can improve public and community participation in the process of city development.
This is accomplished by elevating both the quality and quantity of interactions that take place between urban planners and the natives of the region. Historically speaking, the physical realm has been the focal point of public involvement. At public meetings, the use of paper-based drawings and maps of an urban design was helpful in facilitating the communication of planning recommendations.
Timeline for technology in urban planning
The Internet is without a doubt the most effective means of disseminating urban planning knowledge and providing a platform for involvement. Web-based systems offer intriguing possibilities for developing new geospatial applications, particularly in the field of public engagement. It is now possible to construct a smooth and continuous multi-scale 3D.
Visualization platform for public engagement in urban planning information exchange, thanks to recent advances in virtual globe technology. Visual tactics are familiar to both professionals and the general public. Currently, 3D visualization of urban planning is primarily dependent on wrapped VRML data packages that are viewed using special tools or browser plug-ins, with the urban planning information being isolated from its surrounding context.
Ease to quickly zoom in and out from a macro-view of the entire scene. Users can roam, rotate, and zoom in and out from a whole-earth view scale to a single building view size in the 3D visualization environment, or just double-click to fly to a specific planning project. GIS is one of the most widely utilized tools in urban planning today. The rapidly expanding field of information technology has improved and made urban planning more interactive.
Urban planning designs are published and ideas are collected using a web-based GIS, allowing even more non-professionals to engage in urban planning processes. Initially, Web GIS primarily used the Internet to provide 2D maps or simply an image containing the planning designs. More and more 3D models are being used to provide a more natural picture of a design to the general public.
Chen founded the 3D Los Angeles Basin in the United States in 1999 by introducing a 3D urban simulation system that combines VR, GIS, and database technologies. VRML (Virtual Reality Markup Language) is typically used to represent 3D city planning models. Hetherington proposed using the X3D standard to support 3D city maps for interactive web visualization of site development proposals.
Using the proposed housing development case study, we showed how to use a standard web browser as a GUI (graphical user interface) to control the display of 3D models. Interactive client-side visualization is achieved using AJAX (asynchronous JavaScript and XML). The public perception is that a city is a 3D building. The general public expects the proposed plan to be presented in 3D, and finds such presentation to be easy to understand and manipulate. Several companies have created 3D building models for many cities.
Feature of Virtual Globe

The potential for 3D visualization in the planning of the build and physical environment is enormous. The ability to present, create model, modify and evaluate changes to the environment built on the visual world/on the web offers the potential to improve the planning and design process. It also helps to convey ideas, suggestion and developments to the community.
The potential for 3D visualization in the planning of the build and physical environment is enormous. The ability to present, create model, modify and evaluate changes to the environment built on the visual world/on the web offers the potential to improve the planning and design process. It also helps to convey ideas, suggestion and developments to the community.
Augmented reality (AR)
This technology uses an existing world and adds or modifies something to it. The actual environment is used with overlays of new or additional information. This makes augmented reality a variant of virtual reality that adds additions to reality, rather than actually creating a new world with new elements. AR can inform people in a more satisfying way than traditional approaches such as maps and handheld displays. Recently visualization techniques are primarily fully virtualized, but AR has the potential to enhance these virtual environment by giving real environment of the design for all users.
Virtual reality (VR)
VR technology helps to model a new world that is completely separate from the real world. It's easy to try something that doesn't exist here. Virtual reality (VR) has been studied as a technology that can help city planners. VR is also a human-centered technology that fits into the typical collaboration process of city planning. Focusing on 3D modeling is a welcome starting point from 2D-oriented tools (GIS and CAD). However, all three tools are 3D capable and suitable for comparison. Create VR, virtual environment (VE). What is exchanged via avatars has only recently become common and freely accessible. There are many networked examples that enable long-distance communication and collaboration, but they require real-time processing.
Mixed Reality
Mixed Reality is a new visual experience where the physical built environment and digital objects coexist, combined in a very realistic way, and fuse real and virtual. Mixed reality allows for a realistic combination of digital content and the physical environment. MR allows many new opportunities for public engagement. This will allow planners and architects to roam existing streets and public spaces to experience digital content such as 3D architectural models. It can minimize the barriers to entry for native participation by allowing anyone to experience planning and processes in the virtual environment of the city in which it lives.
Urban involvement via mobile apps is a relatively new concept. With the rise of participatory planning and the development of tools that assist e-Planning and e-Participation, new opportunities emerge. Participation of the general public Geographic Information Systems (PPGIS) allows for public e-participation, allowing for the use of maps for the improvement of public information and the collecting of spatial data with the help of the public.
It is simpler to examine the present state of urban regions at multiple scales and sectors, as well as suggest a design plan at the city and neighborhood level, using participatory tools in urban planning. Innovative participation technologies can help decision-makers and citizens communicate effectively. Major role of these kind of technology (AR/VR/MR) in urban planning are following:
Visualizing Big Data
Understanding the Impact of Urban developments on Traffic
Encouraging Citizens to Participate
Helping Cities into Smart Cities
Applications and Software in Virtual Environment
Aerometrex
Aerometrex is a geospatial computing firm that specializes in data-driven insights for a variety of corporate applications. The firm has over 4 decades of experiences in fields such as remotely sensed mapping and imagery, 3D modeling, and airborne LIDAR as a leading supplier to the private and public sectors.MetroMap, a subscription-based service from the company, allows customers to quickly access high-quality 2D imagery, 3D realistic mesh models, and LiDAR-derived products.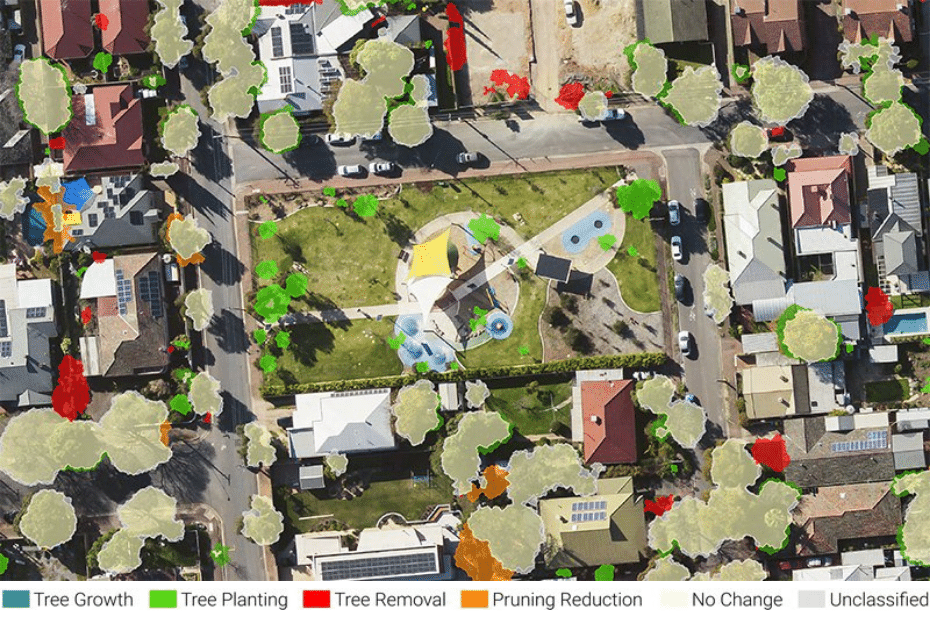 Active worlds
Active Worlds is a virtual platform that is operated by Active Worlds Inc,an American based entity which is situated at Newburyort, Massachusetts established in 1995.In that platform each and all users get unique ID that contains a namea login portal where users can log on to the 3D virtual world and have ability to build their own virtual environment and even explore others-built fenestration. ActiveWorlds give permissionto create own universeand export the 3D content.ActiveWorlds browser has the capabilities to perform different task like basic instantmessaging,voice calling and browsing capabilities.
ESRI(ArcGIS-3D)
It is a tech company that provides diverse products to study the built environment by analyzing the thematic maps.
ArcGIS-3D is software that helps in creating the 3d model of the built environment to conceptualize the vision by adding the dimension in the data .Raw data use to extract value that helps in solving problems and understand the bigger picture .Using 3D models and data visualizations techniques to study the patterns, trends and relations among different aspects. It provides forum to where ideas ,works ,concepts can be shared.
Impact of Virtual Environment
The methodology followed to understand the impact of Virtual Environment in public participation in urban planning has following steps:
The understanding of various terms involved in the topic of this article were studied in detail and defined as per the scope of the topic. A correlation between these terms was established to understand their interdependency.
Study of various published and unpublished research papers to establish an in depth understanding of the scope of the topic and various other technologies used in present scenario.
This extensive literature study was followed by the study of comparative case studies to understand the practical feasibility of the concept.
Finally, the inferences were drawn from all the literature study and comparative case studies.
To understand the scope of Virtual Environment in Urban Planning and its impact on public participation, few case studies were undertaken where the public participated in urban development through the platform of virtual environment that was made available online by the experts and developers. The case studies undertaken are as follow:
The Yuansantze Flood Diversion Works Project, Taiwan
Visit VR Glasgow: Welcoming multiple visitors to the Virtual City
Digital Twin City: Case Study of Amravati and Jaipur
Case studies: The Yuansantze Flood Diversion Works Project, Taiwan
Flooding in Taiwan is the biggest challenge and most hazardous natural disaster. It causes severe impact on the social and economic status of the country. The Yuansantze Flood Diversion Works (YFDW) was an essential hydraulic design and the largest project for flood mitigation in Taiwan. Keelung River is a major tributary of Tanshui River of northern Taiwan. There are 4 main features of the YFDW project: a river weir, a diversion inlet, a 2.48 km-long tunnel and an outlet. The side river wire divides the river which forms a basin where sediments get settled and these trapped sediments cause flooding.
As any other development project, public hearing played an important role to make this project a huge success. The authorities used 2 different models for public participation. First, where the interaction between decision makers, public and experts was in conventional format where the public gave their comments in written form to the decision makers and they responded to their queries which proved to be very tenuous and less effective.
In the second approach they introduced a 3D VE to present the proposal to the public which proved to be more efficient and effective. This model was used to effectively showcase various scenarios of the project to the public. The responses were recorded in digital format. This improved the interaction between various stakeholders.
The two approaches adopted by the decision-makers are:
Traditional communication cycle: Traditional interaction between various stakeholders is through offline mode. The comments and suggestions from the public are recorded in written format and then the decision makers respond back after discussion with the experts. The three major challenges for public hearings in this approach were: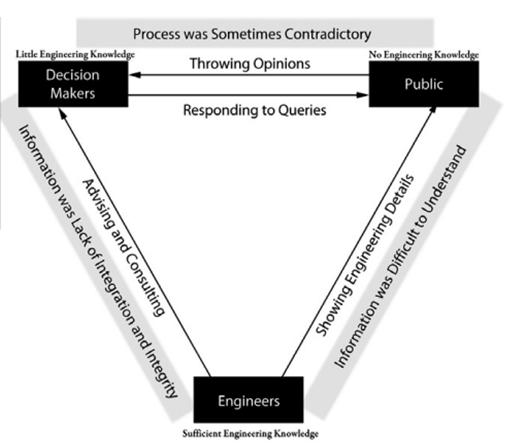 Lack of engagement:
Figure 9: Traditional approach (Source: Lai, J., Chang, W., Chan, Y., Kang, S., & Tan, Y. (2011) 2D representation of planning proposals
Difficult to comprehend for general public
Reduced public participation
Poor quality of feedbacks
Lack of interactivity:
Feedbacks recorded as notes
Difficult to record and maintain
Less scope of navigation
Lack of effective communication:
Flood projects involve multi-dimensional information which can lead to non-specialized participants
Leads to lack of interest of public.
Difficult to comprehend in 2D media or scaled physical model
New communication cycle through virtual environments: The interaction between various stakeholders is through a 3D VE, where people can browse through the proposals in the city to have a better understanding of the scale of projects, record their comments and suggestions on the online platform. The decision makers and experts can access these comments and respond directly to the public on this platform.
The improvements after implementation of this approach were:
Figure 10: New VE approach (Source: Lai, J., Chang, W., Chan, Y., Kang, S., & Tan, Y. (2011) 90% of local residents expressed their views about the project after the 3D virtual environment was introduced. Earlier less than 50% of residents participated in public hearings.
Efficiency of public participation improved as experts saved time in explaining the 2D drawings and scaled models by about 30%.
The public offered a lot of helpful recommendations, such as a warning system and beautifying of the riverfront, which made the flood simulation carried out in a 3D virtual environment (VE) quite successful.
When the 3D VE was launched on online portal, it was easier for the decision makers and experts to gather suggestions and comments from the public from time to time.
Visit VR Glasgow: Welcoming multiple visitors to the Virtual City
ABACUS team developed a virtual model Glasgow city for an area of around 25 sq km approximately. The team used an extensive data set of urban geometry to develop a real-time and an interactive 'fly-throughs'. The city's Directory has around 8000 annual visitors. This virtual 3D model illustrates around 10,000 properties which has details of the cultural and socio-economic composition of the city.
Current information sources include:
Figure 15: Virtual model of Glasgow city (Source: Ennis, G., & Lindsay, M. (2000)) Tourist information database.
Database of the architecture of the city.
The database on the names of street and addresses of properties.
An external website.
Tourism: The tourists in the city can use this VE model to explore the city before their arrival and locate the destinations or the places they want to visit in the city. This data can help them make an informed choice in the prospect of selecting the place of stay, the routes and other required amenities such as shopping markets, recreational spots and others.
Education: Students of primary school are given the access to this model to locate their school, their home and to explore the city. Higher education students who have access to digital world are introduced to the concept of VR and its applications in Virtual Environment.
Architecture/City Planning: The professionals like architects or planners can access this model for their proposals which would help the decision makers to understand the project more explicitly. Planners can also access this model to plan the changes in urban fabric. This model also gives the public an opportunity to participate and help decision makers in selecting the most suitable proposal through voting.
Digital Twin City: Case Study of Amravati and Jaipur
Digital Twin City: Virtual Replica of Physical Assets
he digital twin city,as an unstable trend of transforming real world into virtual that helps in visualizing ,simulating and performing numerous tasks like real-time remote sensing that helps inmaking effective decisions.
The potentialities and the uses for Twinning in virtual world to be drastically effective within the smart territory of the city that is expanding year on year basis due to rapid urbanization in connecting the servers through Internet of Things. As number of virtual smart cities is expanding in number, the more efficient in connection with the communities who is using or opted to use Digital Twins use. It's not saturated here the more date they collect from IOT enabled sensors that is embedded into central region within the periphery of the city,but it also opened the way to research and development aiming to the creating the advanced AI algorithms.
A Digital Twin is a virtual replica of physical infrastructure that gather the information from the concrete environment to gain valuable input from the real-time insights. Citizens, real estate developers, and other community stakeholders may engage in the planning and development process by seeing, observing, and checking projects over their full life cycle. The Digital Twin can be found in some domains Public Sector, Smart living, Energy and Mobility.
Introduction to Interface of 3D GeoTwin
3D GeoTwin is the Integration of the next generation technologies such as cloud, IoT, AI, machine learning, deep learning, robotics, automation and virtual reality to augmented reality with geospatial. 3D Digital GeoTwin delivers connected and responsive systems.
Be it climate smart cities or green infrastructure, better healthcare, or green environment, smart education or smart agriculture, applications of 3D Digital GeoTwin are intended to transform liveability
3D maps unlock the potential of augmented reality and new areas of growth.
Citizens can have applications that make their decisions better in terms of where to buy eco-friendly homes, ease of access, real-time transport schedules, real time 3D environmental quality index.
Amravati: Greenfield Development
In the year of 2018, An US planning firm Cityzenith's Smart World Pro™, that works in the sphere of advancing the solution for the virtual replica for an advanced Digital Twin solution for buildings and cities was selected for the development of Amravati (future capital of Andhra Pradesh) from the scratch as the virtual twin model by the State Government of Andhra Pradesh in India at the cost of $6.5 billion (USD).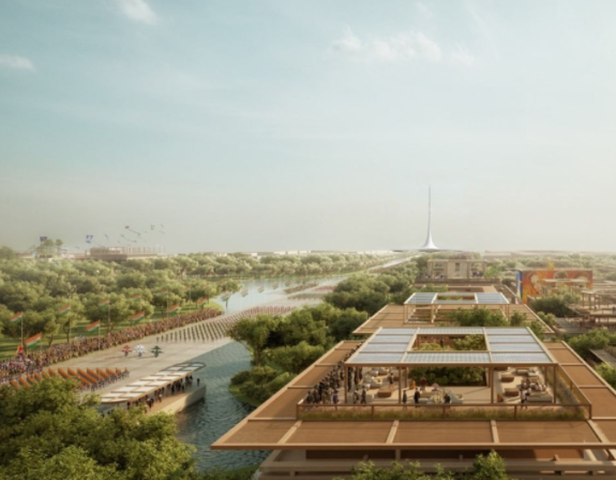 For this challenging task Foster + Partners, that works in the sphere of architecture engineering and consultancy, and Surbana Jurong, an another Asian urban and infrastructure consultancy firm, were chosen to accomplished this task.
It would help different agencies business centers, local government agencies to customize and provide users wide range of options. Digital twin services and functions of planning that includes:
Real-time virtual construction that monitors progress, as well as wellness and environment monitoring
Advancing mobility and traffic for simulations and monitoring
Advancing local climate and change in monitoring and simulations
Analyzing the virtual zoning, setbacks of the buildings, environmental reactivity, traffic management, and other statutory compliance-related preliminary analysis.
Digital single window clearance for building permit.
"A Digital Twin platform that enables the entire ecosystem of the city's stakeholders to utilize and contribute to achieve this common goal is vital to have from Day 1. Amaravati will have an open platform to access data and tools across sectors in an integrated 3D city model, the pilot being powered by Cityzenith's Smart World Pro."
Jaipur: Brownfield Development
Digitizing Jaipur is inspired by the model of Singapore 3d digital twin city. Genesys International, the firm which is working in the sphere of digitizing the mapping work. The 3D digital replica Jaipur that can used by different government or private agencies.
So, for this purpose Google was not allowed to show the digitally detailed maps of the place because the State government is planning to have digital replicas of the city to make the city more livable, efficient planning and tracking the growth potential by visually creating and analyzing the scenario.
In due process planes have been used for taking aerial pictures of the city, and for the street view carthat has sensors being used for collecting the data, and even people toeing LIDAR enabled backpacks where vehicles cannot reach for taking full range measurements. This all part of a process of digitizing and creating an virtual replica, to build a 3D genesis of Jaipur so that can be used to plan or manage from construction to services.
Conclusion
Use of technology has been always supported and promoted by good literature and research. But there is gap between urban planners and designers on the availability of the technology that can be fit into the planning process for participatory planning. These globes based 3d technologies helps in community participation to visualize these projects at various scale and from different viewpoint.
All stakeholders can easily comprehend an urban planning project in their desktop. By fostering interaction via 3D models, the next new technology of 3D visualisation might enhance public engagement in urban planning initiatives. This article has emphasized the importance of various virtual technologies in enhancing public participation in the urban planning and city planning.
Such advanced technology makes it possible to immediately involve all stakeholders, which leads to a stronger and better way of design decision making for the planning process. Here in this study we figure out various challenges and opportunities for all stakeholders in using virtual technology, considering many factors like – Inequality, Inclusiveness, Meaningfulness, Knowledge, and Information.
Challenges
Challenges that are generally faced in public participation through 3D Virtual Environment in urban planning are:
Inequality (Accessibility): It imposes a drawback as there is limited Access to digital platforms owing to uneven Digital Literacy, Internet access and other infrastructure needed to access Virtual environment.
Inclusiveness (Anonymous): As a huge portion of the population is non-technical, it was difficult to include all. Hackers could manipulate data for their benefit. There is a targeted population for every project, but in this case there can be false data recording from non targeted population.
Meaningfulness (User-Friendly): The survey structure is rigid as there is no to less scope of one on one discussion which can open various conversations. Some people showed lack of willingness to participate as they found it less interactive because they are not used to the new format. Data interpretation became difficult as it was difficult to understand the background concept for each feedback.
Knowledge (Feedback Loop): It was difficult to maintain proper discussions as it was very difficult to keep connected virtually. The doubts raised in one's mind have a low scope of clarification. The information provided was very rigid and to the point as everything was pre-recorded on the platform, this led to disinterest of the public.
Trustworthiness (Transparency): This was one of the major concern as there was no way to find out the legitimating of the information and it lacked validation, this also led to privacy concerns
Opportunities
Opportunities that are generally observed in public participation through Virtual Environment technologies in urban planning are:
Inequality (Accessibility): It was easy to access as people can access it when and where they feel comfortable. The time and venue was flexible as it was at the ease of the participants.
Inclusiveness (Anonymous): It helped in establishing a large survey sample unlike the traditional approach where people are gathered in one place with limited capacity, here there was no limit of capacity of the participants. The evaluation process became easier as it was easy to segregate and analyze the data as per the need of the decision makers.
Meaningfulness (User-Friendly): The interface was user friendly as this is a digital era where most of the population can access internet and is familiarized with digital world. It was very effective in quality control as it was easy to segregate the collected data. Data is easy to assess.
Knowledge (Feedback Loop): It enhances the process of translating global solutions at a local level. It provided a much wider information database with well recorded and stored data.
Trustworthiness (Transparency): It enables measurable results from the input of all participants.