Most of the world's population is at risk of climate change (Report C40cities), and cities are a tremendous opportunity: through the adaptation of cities, climate risks can be controlled, and vulnerable lives & assets can be protected.  The increasing frequency and severity of climate risks in cities are becoming increasingly apparent as urbanization accelerates. However, urbanization also creates opportunities to adapt to climate change.
It is essential to have an urban planning process that determines the conditions under which urban development takes place in order to develop a resilient future that can sustain human life, vital services, and infrastructure. Climate change adaptation practitioners working for cities must exchange knowledge and work more effectively together in order to accelerate climate change adaptation, according to C40 Cities.
Climate Change
Climate concerns such as floods and the urban heat island are influenced in part by urban growth. These will be labeled. 'Natural disasters' ignores the magnitude of the problem. A vast, impenetrable constructed environment aggravates the effects of climate change. Cities have spread onto marshes and other flood-prone locations as urban populations have grown.
The consequences of not limiting urban growth to climate-vulnerable territory and failing to take bold climate adaptation measures would be disastrous. The effort required to improve urban planning and climate adaptation integration, on the other hand, is well within reach. The advantages of doing so are numerous. Once in place, sustainable urban planning policies can help to lessen climate risks for decades to come.
This study has been carried out with the intention of easing the integration of climate change adaptation ideas into the profession of urban planning. It is aimed at both urban planning and climate adaptation working with cities. The study is aimed to look at cities to improve their chances of success in the developing field of climate change adaptation through urban design strategies for a sustainable future.
It is recognized that urban planners are not often adaptation specialists, and that city personnel focusing on adaptation may lack the expertise in urban planning, but given the certainty of climate-related dangers, both disciplines must adapt to work together. Natural vulnerabilities, such as flooding and drought, as well as nature-based remedies, must be considered in urban planning efforts to ensure practical, livable, development.
Urbanization and Urban Planning
As most urban planners do not require persuasion to incorporate climate adaptation considerations into their work; in fact, many planners actively support adaptation within their departments and beyond. However, when presenting the ideas and engaging decision-makers and other stakeholders, planners frequently need to make a case for including adaptation strategies.
How is climate change affecting our cities?
The five most common hazards faced by cities, according to C40's Climate Risk Assessment Framework are mentioned below, the repercussions of which have resulted in terrible and costly tragedies. Seventy percent of C40 member cities state that these threats are already present as a result of climate change. And if the effects of climate change become more pronounced, present circumstances are anticipated to worsen.
The C40's Climate Risk Assessment Framework report studied a future scenario where climate change was left unabated. By considering global projections and examining local impacts for more than 2,500 cities around the world, the report illustrates a severe scenario of climate impacts, as summarized below.
Extreme Heat: In the cities that are facing an average of three months of extreme heat, the temperature is reaching at least 35°C (95°F) currently and is set to increase till 2050.
Extreme Heat and Poverty: In the cities where the maximum number of people living in poverty are facing average of three months of extreme heat, the temperature is reaching at least 35°C (95°F) currently and is set to increase till 2050.
Water Availability: In the cities that are sustaining from stream water for drinking purposes is estimated to decline by at least ten percent by 2050 as compared to present days.
Food Security: Out of the four key crops which are rice, soy, wheat and maize, the total number of yields are expected to reduce by at least 10% by the year 2050 according to the current projection.
Sea Level Rise: The sea level is expected to rise up to at least 0.5 metres by the year 2050 when compared to the current timeline. As of now, the coastal cities have an average of 5 metres in elevation which are 10 kilometres from the shore.
Sea Level Rise and Power Plants: The coastal power plants too have an average elevation of up to 5 metres. The people living nearby to the power plants within a range of 50 kilometres may also face the problem of sea level rise and problems may occur due to the power plants.
Mapping out the risks
To understand the magnitude, frequency, and severity of the risks that your city currently faces, and how these will intensify in future scenarios, C40 recommends developing a Climate Change Risk Assessment. C40 has developed a Climate Change Risk Assessment Guidance to support cities in this process, which identifies three main steps:
Developing future climate projections at a local scale
Mapping out vulnerable populations, assets, and infrastructure
Determining the city's adaptation capacity
The outcomes of this diagnostic should guide the city's adaptation actions, which would prioritize the most vulnerable areas. An inter-dependencies study, such as the one presented in Figure 3, can aid in the robustness of the Climate Change Risk Assessment. This analysis looks at the linkages between the city's infrastructure systems, identifying geographical and operational inter-dependencies, and can assist cities to avoid cascading failures. To assist cities in this process, C40 has published the Infrastructure Interdependencies + Climate Risks report.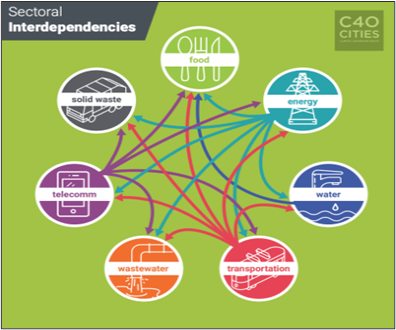 How can we adapt to climate risks in cities?
To adapt to the impacts of climate change, cities must have a pragmatic approach that involves minimizing damage and reducing vulnerability for both current and future climate risks. This section delves into different climate risks, describing the impacts of, the importance of mapping the city's vulnerability to, and the various strategies cities have developed to adapt to, each individual hazard.
Adapting to Urban Flood
Historically, the development of cities has increased the vulnerability of cities to flooding. Buildings and streets encroach on vegetated, permeable areas in local water basins as cities grow. When permeable surfaces are covered with concrete or other impervious materials, the rain flow rate increases, causing floods to worsen. Urban growth on riverine flood plains and other low-lying places is another element that increases the magnitude of urban floods. The main driver of flood vulnerability in urban settings is the lack of space for water bodies and canals.
Floods can have devastating effects on communities, including tree loss, infrastructure damage, landslides, economic loss, and an increase in vector-borne disease outbreaks.
Cities must first map their vulnerability to floods in order to adapt. Flood-prone locations can be mapped in a variety of methods. During a major flood, homeowners' emergency calls can be georeferenced to create a simple map. In order to produce a hydrodynamic assessment, a more complicated map can integrate information regarding land elevation and permeability (part of this information can be obtained in land-use plans).
The direction and strength of the water flow will be determined by this assessment. A computer-modelled investigation of water flow and infiltration in urban areas can be used to create a more detailed hydrological model of the city. To finish the flood vulnerability assessment Cities might overlay a map showing flood-prone areas with socioeconomic data (such as the number of low-income households) or the city's vital infrastructure as part of their research.
Cities, on the other hand, can do more than just identify their flood vulnerabilities: they can adapt. Existing waterways, such as rivers and wetlands, are frequently constricted as a city grows, which can exacerbate flooding situations. Recognize and reclaiming the city's natural canals and bodies of water as the key premise for adjusting to floods. Increasing natural water penetration into the earth, enabling it to be retained in some locations, and letting it to evaporate naturally throughout various riverine and lake habitats will all aid in reducing water flow during a critical event.
Parks are frequently effective places to store water since they are accessible during sunny days and can retain water during heavy rains, but communities can also get creative by implementing permeable paving, subterranean water storage, and other techniques. Green infrastructures such as bioswales (vegetated channels that delay water entry and filter pollutants from runoff), rain gardens, and green walls are also effective techniques for increasing permeability and reducing water flow rate during a crucial event.
Flood adaptation necessitates the involvement of urban planners. For example, the city's comprehensive plan can specify where water should be kept and absorbed, and district-scale plans can ensure that new buildings and urban infrastructure are flood-resistant.
Also read: Stockal vs Vested vs Indmoney for US stock investments
Case Study: Urban Floods in Chennai
2007 January
On Saturday, January 29, 2007, a number of residential neighbourhoods in Chennai, including Bhanu Nagar, Saraswathy Nagar, Venkateswara Nagar extension, and Ayyappa Nagar near Ambattur, on the outskirts of the Red Hills lake, were struck by lightning. For a few months, the lake has been getting input from Poondi reservoir to improve its storage capacity. The water spread expanded as the inflow into the lake increased.
2007 October
On October 28, heavy rains lashed the city of Chennai. Between 8.30 a.m. and 8.30 p.m. on October 28, the Meteorological Observatory in Nungambakkam recorded 11.8 cm of rainfall, while the observatory at Meenambakkam recorded 11.7 cm.
The heavy rains left several roads underwater and led to fallen trees. Traffic on P. T. Rajan Salai and Ramasamy Salai in K. K. Nagar, R. K. Mutt Road in Mylapore and at Tirumurthi Nagar near Nungambakkam High Road came to a standstill for a while after trees fell. Arterial roads, including Dr. Ambedkar Road in Vyasarpadi, were flooded. The Vyasarpadi Jeeva Railway Station subway was under 2-3 foot deep water. Several parts of Perambur were covered with more than knee-deep water.
Power cuts lasting for a few hours were reported from many parts of the city. Arterial roads in Velachery and nearby localities were left battered and bruised. Rainwater stagnated on large swathes of Velachery Main Road between the
Vijayanagar Bus Terminus and the Gurunanak College. The Taramani Link Road and Medavakkam Main Road was also inundated. A tree fell across the railway tracks near Perungalathur delaying several trains. October 29 was declared a holiday for all schools in the city.
Factors Responsible for the Floods in Chennai
The meteorological data clearly reveals that the cause of the increased floods in Chennai is not a long or medium-term trend reflecting increasing precipitation amounts along India's eastern coast. In reality, there has been no discernible increase or decline trend in the last 200 years. Annual precipitation has decreased during the last two decades, despite an increase in the number of floods affecting Chennai residents.(Gupta, A. & Chakrabarti, P.)
Efforts made to mitigate and manage the Floods
Flood Alleviation Project, 1998
Chennai City River Conservation Project (CCRCP), 2000
Master-plan Provisions: Encroachments and obstructions to the waterways are indeed the main causes for floods in the city. The level of encroachment has increased manifold between 1985 and 2005. It is critical to remove the encroachments in order to bring relief.
Identifying lakes, water bodies, and the inlets and exits of their flood channels. Floods in Chennai are being caused by the shrinking of marshlands. There must be a clear delineation of regions where no development or encroachment is permitted. Temple tanks and other small tanks in Chennai are being restored.
Development in Depth-The flood carrier's course through each neighbourhood must be depicted in the plans. If crossing a river or lake is inevitable, calculate the number and size of syphons needed to carry massive flood levels. In new layouts, small roadways should be avoided.
Minimum road widths should be 33 feet to provide for stormwater drains and a well-defined and isolated sewage system. Lakes, rivers, and other bodies of water should be protected with the participation of local people. Make them in charge of the lake's care.
People who live near water should be taught about water as a natural resource and the ways for preserving and conserving it. In a nutshell, they should be taught how to read and write about water. Technical aid and partial money from the government should help to speed up the process.
Continue desilting activities and river water conservation initiatives as needed to ensure that sewage does not enter water bodies. To design drainage for Chennai, data from the Geographic Information System (GIS), Global Positioning System (GPS), and Remote Sensing (RS) must be used. At the earliest opportunity, appropriate action should be done.
Adapting to Urban Heat
The heat island effect in cities is caused by a dense urban layout and a large percentage of materials with a low rate of albedo (the proportion of light or radiation reflected by a surface). As a city grows, green areas and other open spaces are frequently replaced by concrete or other non-porous materials, making the metropolis more vulnerable to heat. A large percentage of asphalt and concrete is usually a sign of greater heat sensitivity.
Extreme heat can harm individuals' health, ignite wildfires, overload electrical systems, destroy infrastructure, exacerbate air pollution, and much more.
Cities can analyse local temperatures (using thermal gauges) or surface temperatures (using satellite pictures or flyovers) to map urban heat (lidar). The heat map can then be overlaid on a map of socioeconomic variables, such as the amount of low-income households, children, or elderly individuals, or access to green space, to discover which regions of the city are more vulnerable to heat.
To mitigate heat impacts, city officials can ensure that green areas are present throughout the city, consulting the spatial heat map to determine where cooling measures – such as urban reforestation, green roofs, cool roofs, and water fountains – are most needed. Public policies can also guide new developments to include heat mitigation features, for example by requiring the inclusion of cool pavements or roofs – with lighter surfaces to reflect sunlight away – and by restricting the use of asphalt and hard pavements with low albedo factors. Other urban design features can help reduce temperatures in cities:
Sky-view factor: This is calculated as the fraction of the sky visible from the ground up. Skyscrapers located on both sides of a narrow street will lower the sky view factor and will reflect the sun into the urban areas, contributing to the urban heat island effect. Establishing guidelines that can preserve the sky view factor can decrease the city's vulnerability to heat.
Shading: Shading from buildings and trees reduces the radiation received by other buildings, pavements, and people thus reducing heat vulnerability. This should always be taken into account in urban design.
Airflow: designing street grids with wind circulation in mind can increase evaporation, therefore, lowering the ambient air temperature. Furthermore, green areas can provide a cool airflow and increase evaporation.
Case Study: Urban Heat in Delhi
According to Climate Projections for the 2050s of ARC3.2 cities the temperatures range of the city of Delhi rises from +1.5 to 3.3 degrees Celsius and -13 to +28 percent precipitation
Heatwave mortality in Delhi has nearly doubled in the last 20 years.
During the 2015 heat wave in North India, almost 2,000 people died.
People who work outside and those who live in low-income dwellings are the ones that suffer the most during heat waves. During Delhi's heatwaves, temperatures in residences with tin roofs can reach 50°C (122°F).
Increased strains on health services are caused by increases in heat-related illnesses. During heat waves, the number of patients experiencing dehydration, diarrhoea, and heat cramps nearly doubles in hospitals.
Adaptive Measures: In India, 30 cities and 11 states have produced a "Heat Action Plan" that includes early warning systems, advises adjustments in outdoor work hours, details improvements in health-care responses, and encourages community sensitization through mass-media campaigns.
Residents and city officials are notified one week ahead of a heat wave via early warning systems, which allows city officials to organise their reactions. Because of an improved coordinated response by the Meteorological and Disaster Management Departments, mortality rates have reduced from 2,600 in 2015 to fewer than 200 in 2017. In 2018, Delhi will become the 12th city to develop a Heat Action Plan.
Adapting to Drought
Drought is a serious threat caused by a lack of available water, which is typically exacerbated by heat and wildfires. Cities in dry areas are particularly vulnerable to this threat. However, as a result of climate change, we can now see the effects of droughts in non-arid places as well. Droughts may be disastrous to cities, resulting in wildfires, water shortages, subsidence, biodiversity loss, and agricultural land damage.
Drought adaptation and water management are inextricably linked. As a result, in order to boost drought resistance, a city must construct a robust water system. During a drought, there are several options for ensuring water availability, including sustainable groundwater use, wastewater recycling, and rainfall gathering.
Improving a city's urban forest in the medium to long term will help with water retention. To increase groundwater recharge, cities might favour native forestation species that are well-adapted to the local climate and require less water upkeep. Desalination of seawater is another typical remedy, but it should be carefully evaluated because it needs a lot of energy and often increases GHG emissions, making future drought vulnerability worse.
Mapping is, as always, an important component of the process. Cities should map urban green areas and their vulnerability to land fires to analyse the areas affected by drought. Cities can also use a map to identify water retention regions to assist them to prioritise water management efforts during dry years.
Adapting to Sea Level rise
Future projections predict that the sea level will rise between one and two meters in different global regions. Coastal cities with areas only a few meters above sea level will be vulnerable to floods, and these low-lying areas must be thoroughly considered in urban plans to avoid serious damage in the near future. Sea level rise has slow but unrelenting impacts, such as infrastructure damage and loss of economic activity, and can lead to residents needing to move permanently away from vulnerable areas.
To map urban vulnerability to rising sea levels, urban planners should assess the city's land elevation, highlighting low-lying areas and considering them in conjunction with climate change scenarios predicting a sea-level rise. San Francisco, as shown in the figure below, mapped how sea-level rise will affect the city in a scenario where no measures were taken to stop climate change.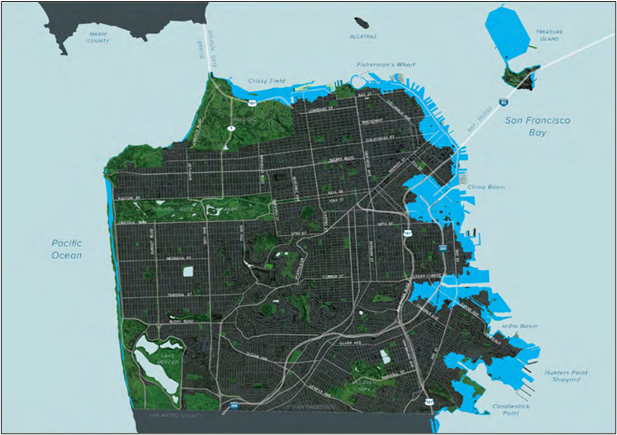 Sea level rise is not a current risk for most cities; however, it will be a high risk in the future. Since its major impacts will occur over the next few decades, cities can plan for it in advance. There are three main approaches to sea-level rise adaptation: protect, accommodate, and retreat. The project approach has typically been the first response, using hard (grey, or engineered) infrastructure such as bulkheads, dikes, pumping systems, seawalls, and other barriers.
This approach can also rely on soft (green, or natural) infrastructure by recovering and increasing the coastal vegetation, protecting coral reefs and coastal tree lines, and generally using the coast as a natural system to buffer coastal communities from inundation – working with nature rather than against it. The accommodate approach focuses on the retrofitting of buildings and infrastructure to adapt to rising sea levels. Lastly, for areas that have intense risk exposure, the retreat could be the only possible solution. Figure 5 illustrates these approaches as depicted in San Francisco's Action Plan for Sea Level Rise.
Regulating development and changing zoning is an often controversial but increasingly necessary approach to adapting to rising sea levels. Calculating the cost-effectiveness of each approach is a necessary step to select which one, or what combination of approaches, to adopt in a given area. To avoid creating more vulnerable urban neighbourhoods, a city's land use plan or zoning code should restrict construction in areas exposed to this risk, or at least require for new buildings to be highly resilient to floods.
Possibilities for enhancing resilience
Urban planning, as a political and technical process, is wide in scope, as it regulates the use of land and the built environment, urban infrastructure, green, and public space. Authorities need to focus on Local officials and Local policymakers who can use the map of the city's climate-change-related hazards (risk maps) to shape urban policies, which will ensure resilient urban development.
The built environment, as well as the use of land, urban infrastructure, green, and public space, are all regulated by urban planning as a technical and political process. Cities must seek to integrate adaptation principles into urban planning strategies, thereby hardwiring resilience into the city's regulatory tools, if they are to weather the long-term effects of climate change and continue to thrive.
Local officials can use the risk map of the city's climate-change-related risks to design risk-appropriate urban planning plans. This guarantees that urban development is resilient from the start, minimising the need for costly adaptations later on. In order to comprehend how to integrate planning and adaptation policies, it is necessary to visualise the various potential linkages.
Mal-Investment : When an urban planning policy fails to account for climate adaptation and a climate-related hazard occurs, the policy's primary goal is defeated.
Trade-Offs : Some urban planning strategies will raise a city's climate risk, while some climate adaptation plans may conflict with the city's urban planning strategy's policy aims. In some circumstances, those trade-offs are acceptable in order to achieve the priority policy goal; in all cases, understanding trade-offs may help you make better decisions.
Piggybacking : When an urban planning policy that fails to account for climate adaptation results in a climate-related hazard, the policy's primary goal is defeated.
Win-Win Measures : Win–win methods go a step further than piggybacking by addressing both local policy agendas and climate adaptation goals, boosting the overall impact.
Maximizing synergies at every scale
This section will highlight the synergies (positive, reinforcing interactions) between adaptation and urban planning at different scales. It does this by looking at the various urban-planning vehicles that represent opportunities through which climate objectives can be met.
Developing Comprehensive Plans ensures harmony among all sectors
The long-term vision or aim that informs municipal policy on a variety of themes such as urban growth, transportation, housing, economic development, social inclusion, and the environment is referred to as comprehensive, or strategic, planning. It also ensures that policies are created in such a way that all sectors operate in harmony. The comprehensive plan assures that policies developed in these many sectors all contribute to the city's overall objectives. It also guarantees that all aspects of the urban policy are coordinated so that there are no inconsistencies.
Developing District-scale Plans ensuring the development of sub-area of the city
The policies under this sort of plan generally deal with execution, with the citywide urban strategy being tailored to the district level. Local governments can trial more imaginative adaptation and mitigation procedures at this size, particularly when considerable amounts of growth are anticipated, which, once proved effective, can be spread to the whole of the city.
Zonal Codes as legal backbone of land-use planning
The growth of a sub-area of the city is guided by district-scale plans. The policies under this sort of plan generally deal with execution, with the citywide urban strategy being tailored to the district level. Local governments can experiment with more imaginative adaptation and mitigation procedures at this size, particularly when considerable amounts of growth are anticipated, which, once proven effective, can be applied to the whole of the city.
Incentive programmes to encourage specific urban outcome
Cities opt to create incentive programmes to encourage developers, property owners, and renters to engage in the desired behaviour that is costly or unusual. It might be a great approach to test a climate change adaptation strategy. While zoning requires and restricts certain urban forms and uses, incentive programmes employ tax breaks or other incentives (such as a density bonus) to encourage specified urban planning outcomes.
Urban Design Guidelines to maintain characteristics of the built environment
The physical character of the city's buildings, streets, and public space is addressed in these rules. They can be used across the city, in a neighbourhood plan, or in a zoning district. When correctly developed, urban design rules can provide significant adaptation advantages by determining the qualities of outward-facing private or public spaces.
Public Infrastructure to provide smooth functioning
Locals and tourists benefit from public infrastructure because it performs important services such as providing physical access, electricity, water, sewage, and open space. The development of public infrastructure and its interactions with the broader urban environment are influenced by urban planning regulations. Integrating adaptation concepts into public infrastructure planning guarantees that the infrastructure is not only functional but also robust and aids the city's adaption to climate change.
It is crucial to invest in sustainable urban development
Conclusion
Adapting to climate change is a necessity for cities, and there are great efficiencies in and opportunities for embedding climate adaptation principles into urban planning policies.
In most cities, this does not typically happen, as adaptation professionals and urban planners seldom interact, and have different goals. This can be due to a siloed government structure, the difference in the professionals' background, or the fact that climate adaptation is fairly new as an area of public policy.
There is a top-down effort to integrate adaptation and planning functions, whereby the city council or mayor mandates that any urban planning policy must incorporate climate adaptation principles. However, this process can be politically onerous and time-consuming. Far better is when climate adaptation professionals and urban planners within the city government come together organically and take it upon themselves to bridge the gap between the two functions.
In this article, a scenario is imagined where city officials from the adaptation and planning sectors take the opportunity to convene, educate each other, and strategize on their collaborations. Planners and adaptation specialists shall learn about each other's kind of work & responsibility and build on each other's expertise. Where there is enough time and will, this process can move beyond the academic and actually deliver real urban planning policies that integrate climate adaptation principles in a meaningful and effective way. It is essential that the two sectors, urban planning and the adaptation side be brought together during the session in order to achieve real results.
The following are a few of the Goals which may be derived by Integrating Climate Adaptation into Urban Planning Policies categorized into Long term, Medium term and Short term.
Short Term:
Update zoning code to disincentivize new development in areas vulnerable to climate risks.
Identify current projects that need to integrate climate risks and/or urban planning priorities.
Medium Term:
Implement changes in policy to address oversights related to the nexus of adaptation and urban planning.
Update zoning code to disincentivize new development in areas vulnerable to climate risks.
Identify at least one priority project for the next 2–3 years.
Embed regular collaboration between departments; for instance, creating a cross-departmental committee that meets every quarter.
Long Term:
Identify a portfolio of projects to be carried out over the next 3–5 years.
The Goals shall help in enhancing the user's quality of life. The different types of benefits being achieved are Social, Environmental, Economical and Health.